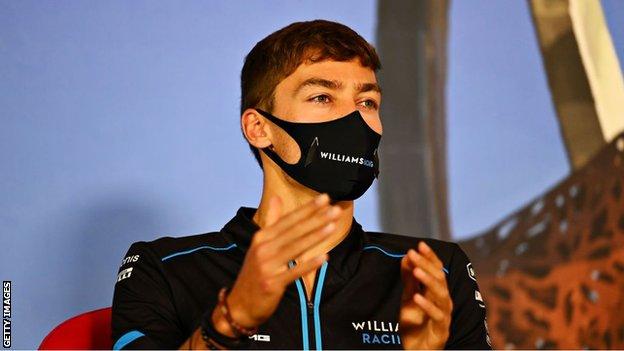 George Russell says he will be staying at Williams for a third year in 2021.
The Briton, 22, said Williams deputy team principal Claire Williams had indicated to Mercedes, who manage him, that she wanted to keep him.
Next year will be the final year of Russell's Williams deal. Team-mate Nicholas Latifi said he was also under contract for 2021.
"Claire was very firm in her decision that she was not ready to let me go," said Russell.
"Ultimately, as I have a contract with Williams, I have to respect that decision."
BBC Sport understands Mercedes made inquiries as part of due diligence with regard to their driver decisions for 2021.
Mercedes are expected to retain both Lewis Hamilton and Valtteri Bottas in 2021, but neither of their deals have been confirmed as yet. Both their contracts expire this year.
Russell is regarded as one of the brightest rising stars in F1 and remains a potential future Mercedes driver.
"I signed a three-year deal with Williams and I will be staying for 2021 to build off last year and hopefully what this year turns out to be," he said.
"I will be giving everything for Williams this year and next year, and see what happens after that."
Latifi, who is making his F1 debut this year, said he had signed a "multi-year deal so I will be racing for Williams in 2021".
The future of Williams is up in the air after the team put themselves up for sale at the end of May, having made a £13m loss last year.
Both drivers said they would be staying with the team regardless of whether new owners came in for 2021.
BBC Sport has learned that Latifi's father Michael, a Canadian supermarket magnate and a shareholder in McLaren, is a leading contender to buy the team.